Interior and Exterior Detail Work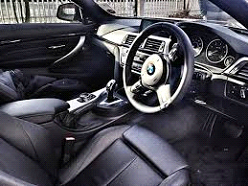 Since BMWs are symbols of prestige and luxury, many BMW owners want to keep their vehicles looking their best—inside and out. Many interior and exterior upgrade options are available for BMWs. In addition, Toronto-area BMW owners may need to seek interior or exterior repair to remedy any damage due to wear-and-tear or an accident. At Lakeside Motors, we have earned a reputation as the top source for BMW exterior repair in Toronto.
When repairing a BMW's exterior, our team focuses on restoring the car to its original condition. We understand how to remedy dents that arise due to hail, parking lot mishaps, or minor damage. Also, we can eliminate minor paint scratches, and handle larger issues as well. Our exterior repair work results in restoration of a BMW's beautiful outward appearance for our Toronto-area customers.
In addition, we offer repairs to recondition BMW interiors for Toronto's BMW owners. We can address seat or dashboard damage that can diminish any BMW's inner beauty. Our work can eliminate tears, scratches, rips, and dents. Our attentive, professional work has made Lakeside Motors a top choice for BMW interior repair in Toronto.
Whether you need restoration to correct interior damage, or BMW exterior repair in Toronto, come to Lakeside Motors. We feature an expert team focused specifically on BMW service. Over the years, we have achieved a solid track record of interior and exterior repair and a roster of satisfied BMW owners throughout the Toronto area. It is easy to see why Lakeside Motors is the #1 destination for BMW interior repair in Toronto.