Brake Parts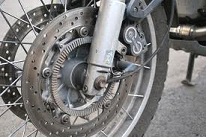 Brakes are an essential safety component on every vehicle. As most Toronto-area BMW owners know, your vehicle's braking system includes several parts – including discs, calipers, and pads. All these parts must be fully functional to ensure safe, effective braking. If you are seeking BMW brake parts in Toronto, you should turn to the area's top BMW specialists at Lakeside Motors.
Lakeside Motors is Toronto's premier destination for BMW parts—including brake parts, front telescopic fork parts for BMW motorcycles, and much, much more. We keep our inventory of BMW parts fully stocked so that our customers can come in and purchase they brake parts they need without delay. If we do not have the right brake parts in stock, we can order them and receive them often in less than one business day. Our parts experts can help Toronto-area BMW owners assess their vehicle's needs and make the right brake part selections. We can help you keep your BMW brakes in perfect working order for maximum safety and performance.
Some Toronto-area BMW owners may also opt to upgrade their exhaust systems or silencers to improve vehicle performance. Aftermarket exhaust systems can improve power and add a distinctive exhaust note. A silencer absorbs sound produced in the engine. This important component ensures that engine sounds remain in a legally and environmentally acceptable level. At Lakeside Motors, you can find a BMW silencer system in Toronto to meet your needs.
In addition, Lakeside Motors is the area's source of BMW repairs and service. Not only can you purchase BMW brake parts in Toronto from us, you can also rely on our mechanical experts to complete prompt, professional repairs. We make exceptional customer service a top priority and strive to deliver top-quality repairs in one business day. At Lakeside Motors, we know BMW owners have a passion for automotive excellence, which motivates us to provide the best parts, repairs, service possible.