Exhaust Pipes and Silencers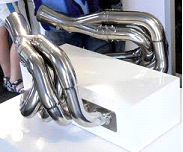 The exhaust system features a series of pipes, which link to a silencer and catalytic converter in every Toronto-area BMW. Exhaust systems reduce noise and improve engine performance and fuel function, while directing fumes away from passengers. Drivers who experience problems with their BMW exhaust systems in Toronto, should contact the professionals at Lakeside Motors for a full assessment and any needed repair services.
Lakeside Motors is one of the Toronto area's leading BMW specialty facilities, with deep experience in replacing exhaust and silencer systems. Our expert technical team can diagnose BMW exhaust systems in Toronto and offer BMW owners repair solutions. We keep a full inventory of BMW parts in stock – including exhaust system parts, silencers, and brake parts – so that Toronto-area BMW owners can enjoy rapid repairs. In addition, we stock used parts, which may provide a cost-saving alternative for some BMW owners
Some Toronto-area BMW owners may also opt to upgrade their exhaust systems or silencers to improve vehicle performance. Aftermarket exhaust systems can improve power and add a distinctive exhaust note. A silencer absorbs sound produced in the engine. This important component ensures that engine sounds remain in a legally and environmentally acceptable level. At Lakeside Motors, you can find a BMW silencer system in Toronto to meet your needs.
We have earned a strong reputation as the premier local source for BMW parts, repairs, and service. If you are seeking exhaust repair or upgrade—such as a BMW silencer system in Toronto—come to Lakesde Motors.