BMW Service and Repairs in Toronto
BMW owners in Toronto, Scarborough, and surrounding areas know that Lakeside Motors is a trusted resource for repairs or service. When looking for top-rated facility for BMW repair in Scarborough, many local area BMW owners turn to Lakeside Motors. You can join the many Toronto area BMW owners who rely on our professional expertise and quick-turnaround service to keep your BMW vehicle in the best shape possible. We take great pride in our well-deserved reputation as the premier facility for BMW repair in Scarborough, and look forward to collaborating with you to serve all your BMW needs.
We pride ourselves on having a great team of expert BMW technicians, along with a broad inventory of authentic BMW service, to provide prompt, professional service at our quality facility for BMW repair in Scarborough. Many BMW owners looking for BMW repairs in Toronto and surrounding areas have chosen to partner with Lakeside Motors for all their BMW needs, from routine maintenance to major repairs.
At Lakeside Motors, we can perform the regular BMW service in Scarborough to ensure your BMW stays in top working order. Whether you need a basic oil change or engine tune up, you can rest assured that an expert BMW specialist is providing these essential services on your car, every time you bring your BMW vehicle to Lakeside Motors.
Plus, at Lakeside Motors, we stock a broad inventory of the authentic BMW parts and accessories needed to perform BMW repairs in Toronto, so that we can return your car to you quickly and get you back on the road in your BMW vehicle. In many cases, we offer same-day BMW service in Toronto, so our customer enjoy very little time away from their vehicle.
A premier resource for the BMW service in Scarborough area BMW owners need, Lakeside Motors prides itself on providing exceptional quality repairs. We can perform air conditioning repairs, brake repairs, cooling system repairs, and electrical system repairs for Toronto area BMW owners. We also have BMW engine parts in stock to execute on-site engine repairs. In addition, our expert technicians can perform suspension repairs (including but not limited to): shocks, steering, control arms, bushings, and more. Whether you need a simple wheel balance or comprehensive drive train repairs,Interior and exterior detail work you can rely on Scarborough's Lakeside Motors for prompt service.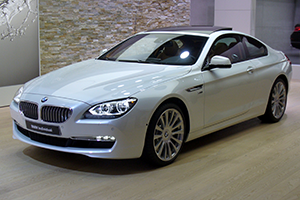 When choosing us for BMW repair in Scarborough area BMW owners can rest assured that we have top-of-the-line diagnostic equipment to get a complete picture of any needed repairs. Our trained service technicians advise our customers on necessary repairs and help customers choose from our extensive inventory of new and used BMW parts to meet each customer's unique needs for performance, while staying within their budget.
Because we have many parts in stock, both OEM and aftermarket, we can often complete BMW repair and service work for our Toronto area customers in less than one business day. We earn praise for our accurate problem analysis and clear communications, which provides the exceptional quality of BMW service in Scarborough, which BMW owners expect. Thanks this commitment to prompt, professional BMW service in Toronto, area BMW owners have come to view Lakeside Motors as a trusted partner for all their repair needs.
Our team holds deep expertise in all types of BMW vehicles to provide the exceptional BMW repair in Toronto, which BMW owners need to keep their vehicle in top operating condition. We can handle everything from minor issues to extensive engine or drive train work. In addition, we can perform interior or exterior detail work to keep your BMW looking as good as it runs.
Whether you need minor service, a major repair, or a cosmetic enhancement for your BMW vehicle, you can join many BMW owners by turning to Lakeside Motors for all your BMW repairs in Toronto. In addition to providing repairs and service, we stock a full line of desirable BMW accessories so you can upgrade your BMW to boost performance, in-vehicle communications, and much more.
In addition to repairs, Lakeside Motors can perform the post-warranty BWM service in Toronto which area BMW owners need on a recurring basis. Our expertise includes engine tuning, oil and filter changes, automatic transmission service, and brake fluid system flush. We have in-depth knowledge of many BMW vehicles, so can advise Toronto and Scarborough BMW owners on the right service options. For oil changes at our Scarborough facility, BMW service customers the choice of synthetic or regular oil.
We can help you establish a regular maintenance plan using genuine quality BMW parts and supplies to keep your vehicle in top operating condition. As savvy BMW owners know, making the investment in routine service can help avoid need for costly major repairs for their BMW vehicles. As a result, many BMW vehicles owners turn to Lakeside Motors for the BMW service in Toronto to protect their investment in a quality BMW vehicle. If you are a BMW owner looking for a top-rated facility for BMW repair in Toronto, look no further than Lakeside Motors.
Without a doubt, Lakeside Motors is a resource for the quality BMW repairs in Toronto which local area BMW owners need and deserve to keep their high-performance vehicles in great operating condition for many years. In addition to being a top-rated source for BMW repair in Toronto, area residents know us as an experienced facility dedicated to exceptional BMW service.
A BMW is an exceptional quality vehicle, which deserves exceptional repairs and service. By trusting us as their go-to source BMW service in Toronto, residents can experience the expert knowledge of our team. Call or visit Lakeside Motors today to learn more about how we deliver the top-quality BMW repair in Toronto, which discerning area BMW owners require. Our friendly team of BMW experts looks forward to getting to know you and your vehicle and educating you on how Lakeside Motors can be your chosen facility for BMW service in Scarborough for the life of your BMW vehicle.