Handlebar Parts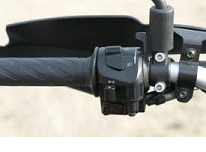 Your BMW motorcycle has specialized handlebars, which are vital to effective steering. If you need BMW handlebar parts in Toronto, you should consult with the BMW motorcycle experts at Lakeside Motors. We keep an inventory of stocked parts, and can advise Toronto-area BMW owners on the correct parts for their motorcycle model.
Although handlebars are a simple, common component of every motorcycle, you must select BMW-compatible parts to ensure the right fit. For example, certain handlebars are designed to accommodate the unique heated grips on some BMW motorcycles. For that reason, you must consult with a true BMW motorcycle expert when selecting new handlebar parts.
Lakeside Motors has an outstanding reputation about Toronto's BMW community. We keep a ready supply of all essential BMW parts—including handlebar parts, Techlusion fuel injection parts—and much more. This allows us to deliver top-quality parts and/or prompt handlebar repairs to our discerning Toronto-area BMW customers. When you bring your BMW motorcycle into Lakeside Motors for service, we diagnose any issues and offer repair solutions promptly. Often we can complete needed repairs to BMW vehicles in just one day.
To steer and drive effectively, Toronto-area's BMW motorcycle owners need genuine BMW-compatible replacement parts for damaged handlebars. Even a slight bend in BMW handlebars can have a dramatic effect on your ability to steer your motorcycle and compromise your safety. We know that repairing handlebars for our Toronto-area BMW customers is a priority and stock the best quality handlebar parts to provide quick-turnaround service. When you need BMW handlebar parts in Toronto, trust the BMW experts at Lakeside Motors.