Mirror Parts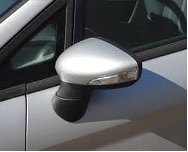 Mirrors provide critical side and rear visibility while driving any vehicle. Mirrors are standard on all vehicles, and may need replacement if they become damaged or defective. Typically, mirrors are sized and styled to fit specific vehicles. If you drive a BMW and need rearview or side mirror components, you should seek out genuine BMW mirror parts in Toronto.
Lakeside Motor's is a premier Toronto-area BMW parts resource, with a ready inventory of many key parts—including mirror parts and seat parts. If you are a BMW owner in the Toronto region and need a replacement mirror, you should consult with one of our parts experts. We are recognized as the leading provider of BMW parts, repairs, and service to the local BMW community.
At Lakeside Motors, we keep a supply of mirror parts in stock so that Toronto-area BMW owners can get what they need right away. Depending on your situation, you may need replacement glass or a mirror ensemble. Some BMW models have heated mirrors and/or power folding mirrors. Lakeside Motors can fulfill all your needs for BMW mirror parts in Toronto. In addition, you can rely on our expert mechanical team for prompt, professional mirror replacement.
Lakeside Motors maintains a strong commitment to delivering exceptional customer service, top-quality parts, and expert repairs. We know that mirrors are vital to the safe operation of your vehicle. That's why we maintain a full supply of mirror parts in stock and respond promptly to every repair request. Let Lakeside Motors be your destination for all your BMW needs.