Electrical Parts - Engine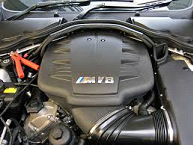 Your BMW has many electrical engine parts that are critical to your vehicle's operation. If any of these parts degrade or fail, you may experience diminished performance or a non-functioning vehicle. When you need authentic BMW engine electrical parts in Toronto, you should consult the area's #1 BMW experts—Lakeside Motors
At Lakeside Motors, we are discerning BMW driver's trusted source for a BMW electrical engine system in Toronto. Since any engine electrical system issue can severely affect Toronto's BMW's owners ability to operate their vehicle, we keep electrical system parts in stock. Our experienced technicians can assess every BMW electrical system issue, and recommend the right engine parts and repair service to Toronto-area drivers. You can rest assure that when you bring your vehicle to Lakeside Motors for service you are working with true BMW experts.
Because electrical issues are not isolated in the engine, Lakeside Motors also stocks electrical parts-general. Whether you need a new BMW engine electrical system in Toronto, or just select parts, Lakeside Motors can meet your needs.
Call us today to discuss your needs for BMW engine electrical parts in Toronto. We can quickly determine whether we have the electrical system part your engine needs in stock in our Toronto facility. If not, we can place a special order and often have the exact part you require available in one business day. Lakeside Motor takes pride in our ample parts inventory and commitment to delivering fast turnaround repairs and service to area BMW owners.