Front Telescopic Fork Parts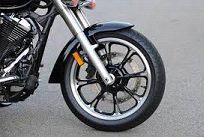 Your BMW motorcycle has front telescopic forks, which serve as front-end suspension. These forks help absorb shock and feature valves and springs on the interior. They connect to your motorcycle's frame on one end, and front axle on the other. If you need BMW front forks in Toronto, you can follow in the footsteps of many area BMW owners and turn to Lakeside Motors.
Lakeside Motors has earned a widespread reputation as the top resource of BMW parts, service, and repairs in the Toronto area. We keep a well-stocked inventory of BMW parts – including front telescopic forks, performance suspension by H&R, and much more. We know that Toronto area BMW motorcycles are proud of their investment in a top-quality motorcycle and want the best front telescopic fork parts possible for their vehicle. Our expert team has in-depth BMW motorcycle knowledge and can provide you on the best BMW front forks in Toronto for your motorcycle.
In addition, BMW offers complete repair services for BMW vehicles. All our mechanical experts have specialized BMW knowledge, which lets us provide professional, reliable, and fast-turn around repairs for BMW vehicles. If your front forks are damaged, or if you desire an upgrade, we can provide the parts and repair service you need at our Toronto-area facility.
Driving a BMW motorcycle can be a source of joy and excitement for BMW owners. We know you have made an investment in a world-class motorcycle. We stock all the essential parts, including front forks, Toronto-area BMW owners need to keep their motorcycle in top running condition.