BMW parts and Used Parts in Toronto
Lakeside Motors has earned widespread recognition as the top supplier of BMW parts in Toronto and surrounding areas. Today, we maintain a strong commitment to maintaining this tradition of excellence. At our Scarborough facility, you can find hundreds of parts, including engine parts, for various BMW models in stock. BMW experts note that one mark of a quality BMW service facility is its commitment to offering authentic BMW parts. At Lakeside Motors, we exceed this commitment on a daily basis by providing an ample supply of genuine BMW parts in Scarborough to meet our customers' service and repair needs promptly.
Whether they prefer new or BMW used parts in Toronto, local area BMW owners turn to Lakeside Motors for an unrivaled selection of choices, often at competitive prices. You can follow in the footsteps of these savvy BMW owners by selecting Lakeside Motor as your preferred resource for authentic new and used BMW parts, including BMW engine parts.
As a premier resource for BMW parts in Scarborough, Lakeside Motors has an extensive parts inventory with everything you need to service or repair your top-quality BMW vehicle. We stock oil, air, and fuel filters, along with oil filters, drain washers and seals for routine maintenance. In addition, we are a top source for BMW engine parts, including engine parts - gaskets and engine parts - oil seals and O rings. Other parts we stock include: clutch parts, gearbox parts, driveshaft parts, swing arm parts, final drive parts (bevel drives, etc.), fuel tank parts, and radiator parts.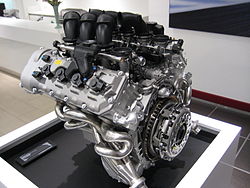 If you are seeking exhaust pipes silencer,brake parts, front telescopic fork parts, performance suspension by H&R, control cables, handlebar parts, Techlusion fuel injection, wheel parts, mirror parts, seat parts, or locking parts, you should turn to Lakeside Motors. We also carry a supply of electrical parts, including electrical parts - engine, electrical parts - general, and electrical parts - instruments. In many cases, BMW owners have the option of selecting BMW used parts in Toronto for any of their parts needs. Our expert parts specialists can readily discern if used BMW parts are a good option for a specific vehicle or application and can advise our customers on whether buying used is a viable, money-saving option for their unique needs.
As an added benefit to Toronto area customers, Lakeside Motor's ample inventory of factory BWM parts allows us to perform rapid on-site repairs at our Scarborough facility. Our expert team has all the requisite knowledge to diagnose any issues with a vehicle and recommend the right BMW parts in Toronto which local area BMW owners need to get their car back in perfect working order with minimal downtime. We can use our on-site diagnostic equipment to identify issues with your vehicle and recommend the right combination of new and/or used parts to solve any challenges and meet your specific budget parameters. If your car needs specialized BMW engine parts, you will be happy to know that we carry many of those in house so that we can repair your car efficiently and get it back on the road very quickly.
To best serve all our customers' needs, Lakeside Motors carries a selection of the new and BMW used parts in Toronto which area BMW owners require for their high-quality, high-performance BMW vehicles. Often, used BMW parts are in excellent shape, so buying them provides a cost saving option to our Toronto area customers who want to keep their automotive budget in check. Our ready supply of popular used parts is just one of the many reasons many area residents view Lakeside Motors as the leading source of BMW parts in Toronto and surrounding areas. We enjoy repeat business from many satisfied BMW owners who recognize Lakeside Motors' commitment to providing authentic new BMW used parts in Toronto and professional service for every BMW need, whether large or small.
In addition, Lakeside Motors stocks hundreds of the most commonly requested spare parts for BMWs, including engine parts. We carry both OEM and aftermarket BMW parts in Scarborough to give you the best options for their vehicle. When you select BMW factory parts, whether for your engine or any other area of your vehicle, you can enjoy knowing that your car is continuing to rely on the parts used to build it originally.
In addition, using authentic BMW parts helps keep your vehicle in the best operating condition possible and can help protect your automotive investment by extending your vehicle's longevity. Since you have already made the commitment to owning a premier vehicle, you need and deserve the best BMW parts in Toronto to keep your exceptional vehicle in peak condition.
Without question, Lakeside Motors is viewed by local area BMW owners as the top destination for BMW parts in Scarborough, due to our combination of an expert team and extensive on-site inventory of authentic BMW parts for many BMW vehicle models. When you choose to do business with Lakeside Motors, you can rest assured knowing that many discerning BMW owners have entrusted us with all of their parts and service needs.
Scarborough's Lakeside Motors can secure all the BMW parts you need. If we do not have the parts you require for your BMW readily available in our Scarborough facility, we will order them for you. Our professional parts experts are extremely adept at locating and sourcing all the parts needed for every BMW vehicle. In most cases, we can secure BMW parts within one business day to serve our greater Toronto area customers.
This is yet another example of Lakeside Motors' unique expertise and dedication to being the leading source of BMW parts our local community. For this reason, and many others, Lakeside Motors enjoys many long-term relationships with customers who rely on us as their preferred resource for the BMW parts in Toronto, which BMW owners require for their vehicles. Call or visit Lakeside Motors today to learn more about our vast inventory of genuine BMW parts in Scarborough so that we can serve your BMW vehicle's needs.